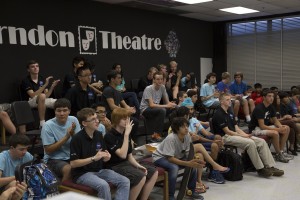 The kids of Team 116 hit the ground running this school year.
This past Tuesday, we welcomed new students at our interest meeting. Subgroup captains gave brief, enticing presentations about each group's functions and what students can expect to learn.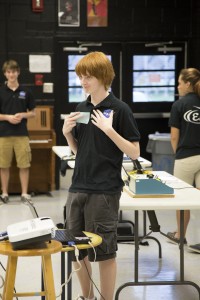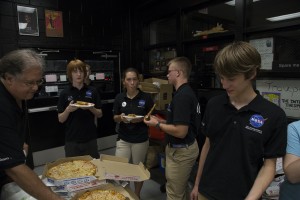 Students were excited to see the main star of the evening in action: Pizza! Oh, and the robot was present and fully-functioning, too.
For this coming weekend, the team is gearing up for the FIRST Lego League DC Expo and Maker Fair. Tonight, we started preparing to train children using Lego Mindstorms over at NovaLabs by learning how to use the LabView software program, a kid friendly software that uses draggable building blocks to put together code. While simple in how it works, users have to think creatively to make complex instructions for the robot.
This First Lego League DC Expo will be on Saturday, from 9:30-3:00 in Alexandria at the U.S. Patent Trade Office. Feel free to stop by and learn more about what it means to be on an FLL Team. Coaches, you're welcome to join as well! Booz-Allen Hamilton will be scheduling a presentation about coaching new or old teams.
Maker Faire will take place on Sunday from 12–5 p.m. in Silver Springs, MD. It'll be a blast, with tons of interesting activities to do, such as awesome arts and crafts, riding a hovercraft, and lots and lots and lots of robot demos!
This weekend will be a busy one for Epsilon Delta—come visit us at our upcoming outreach events!