GENERAL UPDATES
The officers sat at their desk, each taking a short catnap. They were rudely awakened by a chorus of, "BOM BOM BOM."
The source of the music came from the out of place phone on the desk.
Umm, that's not mine." Said the first officer, just staring.
The second officer was just a bit freaked out and felt almost guilty. She had the same type of phone but this was definitely not her phone (plus she would never willingly listen to this. Nope. Never. coughcoughokaymaybeshewoulddbutyoucan'tproveanythingcoughcough.)
After a minute they snapped out of it and checked the message.
Your precious BOM BOM BOM has been changed. It's up to you to figure out what. -Anonymous101
"WHAT?!?!" Speedy cried in outrage. "Who could dream of changing something so… groovy?
Straws stared at her.
Speedy shifted. "I… meant that ironically. Obviously. Geeze, Straws, you have no sense of humor."
Straws rolled her eyes. "Yeah. Sure. So what do they mean, changed? Are they talking about the song, or the Bill of Materials?"
"Perhaps the format changed? I don't know how you would do that with a song, so it's probably the second one."
Suddenly, a trumpet fanfare sounded and confetti rained from the ceiling.
~~~~~~~~~~~~~~~~~~:D 😀 😀 YOU FOUND A CLUE!!!! 😀 😀 :D~~~~~~~~~~~~~~~~~~
http://www.usfirst.org/roboticsprograms/frc/competition-manual-and-related-documents
The officers screamed and ducked for cover. The last time there was an omniscient voice they had both died. Fool me once.
"But the colors are new!" Straws said. "I must have developed synesthesia to be able to hear colors! Or it was that mocha this morning. . ."
"But wait! There's a clue!" Speedy said, pointing at the hovering blue text occupying the office's airspace.
The two investigators proceeded to click the physical manifestation of a hyperlink, and discovered that the template for the BOM had been posted under the Inspection BOM Template link towards the bottom of the page.
Game Manual
TOTES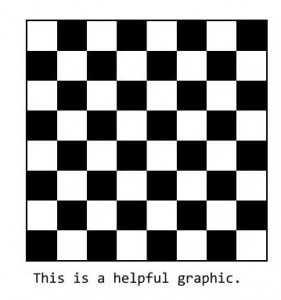 The intrepid investigative duo was getting to kick some hotdog-eating butt.
Today was the office wide hotdog eating contest. And of course the daring heroes always win.
They had practiced in their office with hotdogs covered in ketchup. But, wait! Here, at the official competition the hotdogs had  mustard! (The officers realized this was all beginning to feel a bit forced. It felt like this was a bad metaphor for the totes that AndyMark was selling (which have black logos) are different from the ones at competition (which have white logos). Unofficial events might not all have the official white FIRST logo.)
GENERAL ROBOT DESIGN
"D. A. VeLavery, I'm arresting you for the murder of the Transport Configurations!!"
"But I only murdered them a little bit…"
"Tough. Get in the cab."
Author's note: Violating the transport configurations just a little bit is still illegal, even if it's just by a bolt head or some other minor extension. Dead is dead is dead.
POWER DISTRIBUTION (!!!!!!)
Usually the officers would have been frustrated, or mad, or ready to go good cop/bad cop. But today they were just disappointed.
The man from a few episodes ago who got caught for PD was back in the interrogation room. Of course they had a few questions, like, how did he get out of prison, but that will be conveniently ignored for the purpose of this story.
This man. This man. This man was the only one caught from the bust earlier that afternoon. Right after teatime. As soon as the cops showed up to the sparkeasy he was the only who didn't run, as he was too wired to care.
"So, sir," the Speedy said, notepad at the ready. "How much did you have?"
"Well," he said preparing for a very long, complex, and revealing answer. "I'm not sure." What did this reveal? That he was still suffering after-wire effects.
Straws slammed her hands down onto the table. Not a good sign bad cop had come into play this early. Luckily, the man was scared enough to give up more information about the sparkeasy.
"Well today, I got a custom circuit. Very appealing, as there have been some changes. See, custom circuits has one pneumatics controller per channel. But look, PD isn't all bad! Custom circuits shall not directly alter the power pathways between. . . " He paused for a moment, "actuators (per R18), pneumatic solenoid valves, or some other stuff." The man's lucidity faded. And the officers could ask no more questions.
There was a bang outside the door. The officers looked grimly at each other.
"Oh no. He's here. The Lavery." The officers cursed themselves. One must never so casually mention pneumatics.
The rest of this tale is too horrible to put to words.
PLAYOFF MATCH FORMAT
It's time.
The entire department staff was standing in the office room, muttering nervously amongst themselves and casting nervous glances at the three drawers. Assignments were drawing near.
TEAMS.
Muted exclamations and the sounds of shuffling pervaded the room. So it begins.
The top seeded alliance in the playoff matches will use the red drawers player stations.
A bright light flashed, and all the officers ducked, closing their eyes and shielding their faces. When the blinding white faded, the officers let out a collective gasp. The player stations drawers were now glowing with a strange red light.
The alliance captain will take the center drawer player station. Bob, congrats. you're the captain. take a drawer, any drawer . as long as it's the red one in the middle.
Bob squeaked as he was collectively urged forward. He adopted a timid stance next to his assigned drawer.
The first pick will take the drawer player station on the left. Bob, pick someone. you can pick anyone you like, as long as that person is susie.
"Um," Bob said intelligently. "In that case, I suppose I pick Susie."
Excellent choice, bob. I knew I could count on you, bob. The second pick will take the drawer player station on the right. Again, you are free to pick absolutely anyone you like. Provided, of course, that you pick charles.
Susie took her place at the left drawer as Charles stepped forward to take his place at the right. Suddenly, a gaping chasm opened up in the floor and swallowed Charles alive. He fell screaming into the eternal abyss, and the hole closed behind him as if it had never existed.
"Another floor hole!" somebody screamed.
"It's like deja-vu all over again!!" responded a different officer.*
*brought to you by your friend the Dept. of Redundancy Dept., your friend.
Oh dear. well that was unexpected. Bob, pick someone to replace charles.
Bob hesitated.
Well? Chop chop, bob. we're on the clock here, you know.
"Anyone?" he asked with trepidation.
yes, of course anyone. don't be stupid, bob.
Bob opened his mouth to make a decision.
As long as by anyone, you mean william.
"William," Bob said weakly.
Very good, bob. now, in the event that a backup team is in play, that team will take the  drawer player station of the team it is replacing. Go ahead, william.
SAFETY AND SECURITY RULES
O̘̻͓F͙̖̻F̰̫̲ͅI̝͍͚C̞̲E͎̼͖͝ṚS̺̞̤͚͞
"Not again! We've already dealt with omniscient voices once today!" The officers sighed and ducked for cover.
̟̱̫̤̬̣Ḓ̲̜͉̯̱O̗̲N̦T ̱̖W̮̙̼̦̫ͅO̠̦͔ͅR̤̖̺RY̖̭ ̠͚NO̮̯T̗H̭I͇̪͓͓̬̖N̦͎͙ͅG͚̥ ̤̠̥̭̹BA͍̤Ḓ̣ ̬̣̫͔̘T̖̪̟O̙͙̳̞̗̬̻DḀY̰̼̻̳̜͕
̟̱̫̤̬̣̰J̮͔̫̫̯U͓͈̗̳̺S̮̪̮̠T S̻̱̭O̫M̰͇̺̩͔̣E̟̺͇̩̙̣͙ A̻̙͚̘̝̖̟D̤̮̟̺J̭̤U͖̺̰̭̮ͅS̮͚̫̗͔T̼͙̖̬M̥͖̻̘̪͍E̠̺͔N͎T̞̯͔͍̜͔S̝̦ ̹T̼̻̤O̜ ̫̟SO̝̜̱̲͉ͅM̗̮̭̺̠ͅE̤ ͖̣R͍̳̯͓͚ͅU̟͓͍̘̘̜LE̮̹̟S͕̬
"Rules? For what?! We're not playing any sort of game!" Straws said to the almighty F͍̩R̼͉̳̮̩A̺̼͙NK̜̳̼̞̭̙.
Speedy whispered that she was up to play a game.
T͉͙͕̣HI̙̦͎S̲̹ ͍͓͎͔̪I͓͈̪͙S̝̼̜̭ ̜̥A̫̰̖͚̰̘̰B̝̦͔̼̤̗̯OU̱͖̙̦͓̭̫T ͙̬̼͈̫P̘̣̩͔̦̜ͅL̞̣̮͍̜̻̠A̱̟̹̦̘Y͚͕̰ER̝̯̱̞̲̖̝ ͇̮̟̻̺͍͓S͔T̹̝̝̝̲̰A̗T̙̝̗͍̝͔͈I̻͎̬͚O̱̰N̼̜S͇̜̟̭̮ ̮̟̼A̯N̪̱̫̬͔D̞̟ ̖̩̤̪͔O̺P̣͕E̤̙̬͈͈̫̭RA͔̠̯̦͚̠̼T̻͉̯̠͍ͅO̯̻̳̘̬͔R̗̩̞̠͉͓̠ ͈͍̪̪̹̗C̜͖͇ͅO̜̻͕ͅN̗̟̻̞̺̗͔S̟ͅO̼̯̫̣̫̲L̰̳̦͍̪̖̮E̻͍ͅS.̯̫͙̺̯̙̙ ̭̟̻̲͖ͅ(͙̭T͎̟̻̟̙͎6̝-͇1̗̭͎̳ T̙̯̩̗͖̭͍O͎͍̤ ̺͚̙̯͖̘ͅB͚̼E͕ ̩̳S̥͇̖̗P̣̤E̺̤̦C͔͔͇̰͍IFI̺̫̗̮͕͕ͅC͖͇̰̳͙)̞.͎̞ ̻̹͎͎I̬̘̬̻͚ͅF̥̠̠̜̯ ͅN̠͈̝̤̝O̰̱͓̺̱T ̙̗͚̤͍͉̖C͉̬̞O͎͍̱̗̜͔̝R͍̥̻̤R͉̬͇E̫̼C̹̟̙̥͖TE͚D̝͖̮̱̻ ̳͎̘͖A̰̺ͅN͈D̺͈͖̲̮̳ͅ REP̝͚̬̜̱̹̞E̫A̬̩̭͈̫͙Ṱ̲ED͉/̙̼̞̦̰E͖G̘̰̤͈R̬͇E͚̬͕̳̤͈ͅG̘͇̞̥͇̗I̙̲̞̹͇͎̘O͉U̼̰̤̩̰̙S ̱D̖̫U͎͍̳R̝I͚̻͙N̩G̟̼̳̠̥ͅ ͍̻͎̖͕͕A͔͚̙̞̣ͅ ̼͚̳M̬̦̥̰̺̤A̼̦̪̥͇̰̭T̜̪C̳̹̦H,͈ ̱̦̝YO͙͍̼̙͚̖U̳̻̰͔̥͈̗ ͉͇̦̖G͇̬̖ͅE͔̗Ṱ͔͚͚̰̥̟ ̮͖A͓͖ ̦͈̥̟Y͈̠E̟L̟͚L̰̮̤̰̮̲O͓W ͇͔͚̻C͔̝̠͚A̟̹̟͍̠R̻͎̼ͅD͎͉̰.̻
Straws frowned, "But yellow is a nice color!"
T̮͞OO̞͔̤ ̘̳B͏̩A̞̬̦̫̥͓̟D҉̩̜,͉̲̰̳ ͖̝S͈͙̦͙͙͚̼Ǫ͈ ̡͕͇̥͙̰̯S͙̠̖̥̱̙̳A͈͕̰̕D
"So why does this rule exist?" Straws asked the mysterious being who was being surprisingly pleasant when not trying to kill the officers.
I̘T̩̦'̲͈̳S͍̖͎ ͓̥̱̤͓̣ͅAL̪̖̟͕̮L̠̘͚̼̣ ̠͕A̝͍̣̦̝B͈O̭U͕̻T̫̲̖͙ ̠S͖͙̮̙̞͙A̱ͅF̭̹̪̪̲͉E̫ͅT̺̤̲̲̙̜Y͔̣ ͇̟̰͖ỴO͕̞̠̰͉̘U̬̟̺̪̰̲̩ ̺͚̲̻̝K̫͉N̰̘̝̥̣O̹̣̞̜̳̬W̮̮̖̤͚̻͙.̫͔͍̬̰̠̟ Ṭ͍̹HE̳̺̼͔͖͕̩ ̭̮ͅO̫̬P̘̬͔ER͙̺Ạ̼̜̖T̩̗̙̜̟OR͕̞͓ ̫̮̼̻͙H͔̦̯̫ͅA̯̩S̪͉͕̟̦͍ ̤̙͍̮̙͕̟T̫͕̞͍͇O̪͉͙̣̙͎̱ ͓͕̜̥S̤̤̠͕̗Ṱ͔͔̞̻A̙̳͓Y͇̳̹ ̘͙͈CLO̙͚̜̻̦͖̱S͈͖̘E̟̺ ̩̹̪̖T̩͓O͖̲̝͚̮̞ͅ ͉̻̙͓̱̙TH͎̤Ḙ̳ ͉͎̟S̰̜T̝͉A̯̝͔͉̟T̙̠̝͉ͅI̝͍̝O̘N͉̞̙.͔̹̼̞̻̳ ̪̻͖B̰̝̝̣̥U̬̰T ̯̥͍̣̹͉̪I̜̥̺̫̪̯F̯̟̹̻͉͚ ̣͙̫̖TH͈̬ͅE͙̖̹̙͇̠ ̬̤̜̤͇O͎̦̺͈̞̯̘P͕̪̤̠̪ḚR͖͈̟͈̗A̬̭̯T͍͓̦͓̰O͈̪R̫̦̙ ͈͙͇̼̘I͇͙͔̜̫̩̼S̗͖̜̙ ͈̫̤̰̜̩̪M̬̻O̼̬R̫E̤̦̳͉ͅ T̯͙Ḫ̤̳̝̳̦AN͓̰̦̰̹̖̜ ½̱̺̥̘̼̣ ͈O͎̣F̩̯̗͚̮̣̩ ̘͎͉̮͉̠T̰̳͕ͅH͈̮̟͚̳E͕̼͚̰̯̲̭ ͈̥PL̟͍͙ͅA̪̺̬̯̟̳Y͓̮͚̝E̼͖̗̯R̮̙ͅ ̟̬̞̰̭̖ST̫Ḁ̲T̬I̝̩̠̗̱̼O̭N̼͉͍͔̼ ̰̝̞̲̳̞̩W̠̬̪̩̮Ị̩͖̫̲̩D͇͍̲͇ͅT̝̘̟͉H̗̖ ̻̙̮̙̜A͈̣̼̮W̫̺̱̼̰Ạ̥͎̟Y̜͉̞̠̮̥ ̰͓F̝̻̱R̖̮̤ͅͅO̙͍̯͔̜M͓͓̺ͅ T̬̯̣͉͉̟̻H̞̗̟E̥̲̝I̳̖̖͈̜̬ͅR̦̗̤͙͖̳͈ ͎S̠̫͉͎ͅT͍Ạ̜̙͇̦̹T̗͖I̩̰̥͚O͈͇̫͈̺N ̠̲̮͓̹̲T̥̝͎̻͓̼̯H͕͙̝̖͎̟AN̩̤ ̯̭T͚͉̳H̼͚͎̺̭A̦T͓̰̺̼͈̳̦ ̯͔̻͇̦I̟̩̩̝̣ͅS͕̹̲ ̣CO̲̦̗̖̫N̥̟͓̰̺̗S̤͔̮I̱̭͖̩̣D̝̩̜E͚̹̺̟̲̫R̬̫͉̱̼͍E̲̘̦̪̘͍͖Dͅ ̘̠͎̲A̜̺̠̳͈͔̳ ̱̙̖V͉̖͚̰I̖̻OL̙̬̻̻͍AT̝͖̤͎̻̫I̹̩̙̘͙̙O͔̼̱͎̖̪̥N͓̪̤̱̼͕ ̗̳̰̥͎̙ͅO̦͚̠̜F̣̖͖̩͔̠ͅ ͈̣̳̣̟̤THE͔͇͕ ̤͇̣̰̫R̠̪̻̯̹U͈͔̺ͅL̻E.͓͓͍͕̖
"Hey F̣̻̳͙R͍ͅA̰N̘K̰̭, what does this rule even apply to? The only games we have in the office are Sorry! and Monopoly. The sort of games that ruin friendships."
MATCH REPLAYS
"Well there was a fault in the trial, so… let's have a retrial," declared the judge.
"But what if I don't want a retrial?" asked the defendant.
The judge frowned. "But… you were found guilty. Of multiple counts of murder."
The defendant shrugged. "Eh."
"You're scheduled to be executed," the judge reminded him.
"Big whoop. I've had worse."
"…"
The judge turned to the prosecutor. "Don't suppose you want a retrial, either?"
The prosecutor shook her head. "I'll pass."
"Well in that case, I suppose we just won't have one."
The soon-to-be-executed defendant scratched his head. He opened his mouth to point out that all this reminded him of the recent rule-revision stating that if an arena fault which affected the match is found by a referee, a replay will occur only if at least one alliance so desires. But before he could make this astute observation, he was dragged away into the depths of the American penitentiary system, never to be seen again.
FOUR ROBOT ALLIANCES
A skip in the story; dedicated to those who hate story time.
The list of Teams participating in the match and their selected player stations is called the lineup. (Something felt different about this word: lineup. Almost like the meaning had changed.The officers skipped ahead to GLOSSARY to find out what had changed.)
CHAMPIONSHIP PIT CREWS
we all live in a yellow submarine
a yellow submarine
a yellow submarine
the alliance captain meeting at championships will take place on the subdivision fields, where badges will be distributed for the appropriate reasons.
That wasn't really all that important, so if you don't get it, well, que sera. Hakuna matata. Whatever, yo.
GLOSSARY
The officer O.J. Straws was spending a nice evening with some reading material. Also known as A Game Manual (ahh AGM, what an intriguing novel!).
She had sadly reached the last chapter. A chapter that tied everything up and was full of meaning.
But on one page,she found a sticky note in R.H. Speedy's handwriting. It said, "I know you love your FIRST edition copy, but there have been some important changes. Such as the meaning of LINEUP. Now it goes like this: the list of three (3) teams and their selected PLAYER STATIONS submitted by an alliance captain to play in a FIRST Championship Subdivision Playoff MATCH or a MATCH on the Einstein FIELDS."
*********************************************************
CIO here. Congratulations if you made it all the way through that. Good for you. Gold star. The investigators are smiling down on you. Acting Ensign CIO is complaining that she does not want to be looped into one CIO entity, as that would result in several complications, eg. existential crises, GPA issues, the like. Ciao.