This past weekend Epsilon Delta competed at the FRC Orlando Regional hosted at the University of Central Florida, and although the over 26 hours of bus riding was a bit tiresome it was all worth it for such a memorable trip.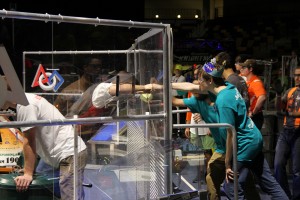 We woke up early Thursday morning ready for a day of fun and robots. The team cheered loudly as we performed in three practice matches and worked to fix some of the bugs and hiccups we were unable to work on during build season.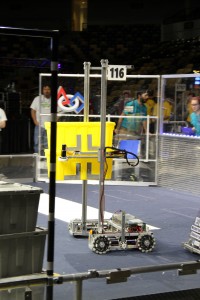 The robot getting ready to stack some totes
But the real excitement was just beginning. We were lucky enough to see an actual rocket launch! We made the 45 minute drive down to the beach to watch the Atlas V take-off from very close by. It was so amazing to see the rocket light up the sky and was the perfect end to our first day in Florida.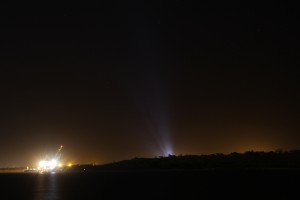 Our view of the launch site as we waited in anticipation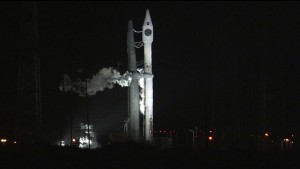 The Atlas V getting ready to take-off for the Magnetospheric Multiscale Mission (Read more here: https://blogs.nasa.gov/mms/) 
The next day was back to competition mode! We began qualifiers as soon as we got back to the regional on Friday and we had an intense day full of energy and excitement. While the pit crew continued to work on the robot our members were busy scouting and meeting other teams, even ones from other countries such as Brazil, Turkey, and others. Matches continued through Saturday morning (the Pi day of the century!). Overall our team ranked 28th out of 64 teams, and although we didn't make it to the finals we had an amazing time working together and meeting new people.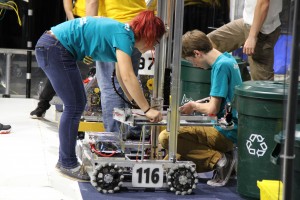 Our flight team setting up the robot for a match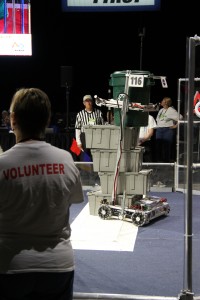 Epsilon Delta capping a stack of totes with a recycling container 
With the competition over we were ready for some relaxation. On Sunday our team visited NASA's Kennedy Space Center. It was inspiring to see the feats of aerospace engineering with our own eyes. We learned a lot about our history with space, got to experience a shuttle launch (through a simulation of course), and some of us even got to meet a real astronaut! After a hot sunny day at NASA we got back on the bus and headed home to Virginia.
Overall it was an amazing trip and we can't wait to compete again in a few weeks at the Greater DC Regional. Come see us compete at the Patriot Center March 26th – 28 (more info at http://www.dc-first.org/dc-regional)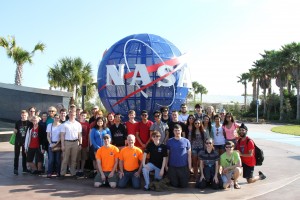 The team getting ready to enter the Kennedy Space Center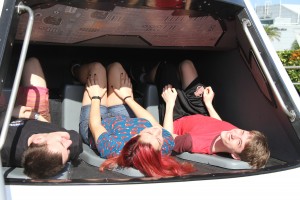 Many students got to try out what it feels like to sit in different space vehicles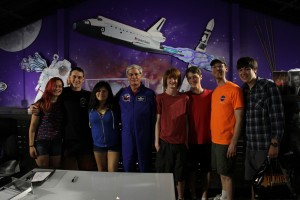 Some members meeting Astronaut John Blaha