For those who haven't heard yet, this past weekend Epsilon Delta competed at the Greater DC Regional where we competed with 47 other FRC teams from all over (even as far as Brazil) and became regional finalists.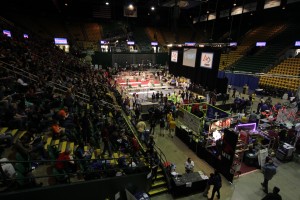 When we arrived at the Patriot's Center the competition started out slow for Epsilon Delta, but as the day continued we began to get into the groove, preforming better and better with each match; we even were a part of the highest scoring match and alliance of the day!
Watch it here:
Epsilon Delta on the red alliance in the highest scoring match of the competition
By the end of Friday we had worked our way up to the third highest ranked team of the entire competition, and although there was some fluctuation of our rank after that we were ready to take on Saturday.
However the next morning wasn't as great as we had anticipated. After a few rough matches we found ourselves ranked nineteenth at alliance selections, but luckily we were invited to join the number eight seed alliance with teams 5243 Wildcat Robotics and 2377 C Company. Excited to be in finals with great partners we sat down for a strategy lunch with our 3D printed scale model of the field we made for other teams to use at competition.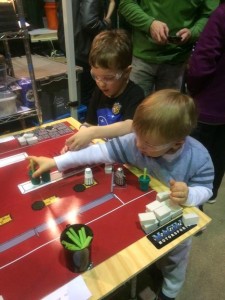 Future FRC members preparing for matches waaaaay in advance on our 3D printed field
Then it was off to quarter finals. Nervous as ever, we took to the field, and conquered! In our first match we scored the highest out of all the quarter final matches and were ready to proceed to semi-finals. It was a blur of match after match until we finally reached finals. It was the us against the number one seed alliance, and it was nerve racking.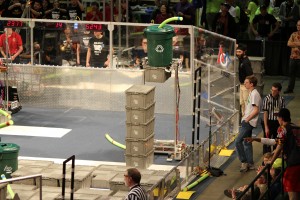 Epsilon Delta ready to score the highest stack possible in Recycle Rush
The winner of two out of three matches would be crowned the victor, and we had already lost one by only a few points. This match was all or nothing. After a extremely intense game (watch it here) we lost 137-132. It was a very close match, but we were still proud to have made it so far. It was an amazing end to our season and to add to the excitement we also won the Gracious Professionalism award for our work with helping other FIRST teams in and out of the competition.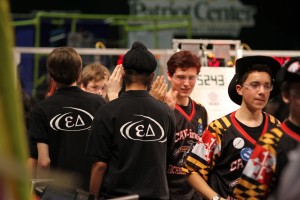 We wrapped up the day with a celebratory dinner at Silver Diner, and headed home. Thank you so much to teams 5243 and 2377 for being an amazing alliance and congratulations to all the winners! We have enjoyed every bit of this season and can't wait to see what game will be next year, but until then we'll be taking a much needed rest before we prepare to review the submissions for our Animation Competition!